Red Lobster Jobs
Receive alerts when this company posts new jobs.
About Us
Industry

Restaurants/Food Service
Great Service. Great Seafood.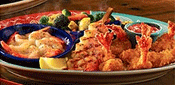 Now that's what we call enjoying the best of the sea. Whether your family comes together over a big plate of succulent crab legs, you celebrate life's special moments by dipping into Artichoke, Lobster & Seafood Dip or you mark your calendar for Lobsterfest year after year, Red Lobster is undoubtedly where America goes for great tasting seafood.
Company founder Bill Darden tested his entrepreneurial skills at the ripe old age of 19. That was when he opened a restaurant concept of a different color called The Green Frog. From the very beginning, Bill Darden's restaurants focused on quality and service. He also thought there'd be great consumer appeal for a restaurant that specialized in seafood. Darden and his team opened Red Lobster in Lakeland, Fla., in 1968. One member of the first restaurant's management team is our former Chairman and CEO, Joe Lee.

By the early 1970s, we had expanded throughout the Southeast, establishing Red Lobster as the leader not only in chain seafood restaurants but in all of casual dining. "Our biggest competition back then was the kitchen stove," remembers former CEO, Joe Lee. But that didn't stop the Red Lobster crew from innovating in the kitchen, introducing much of the country to calamari, snow crab and key lime pie, not to mention inventing popcorn shrimp.
By the late 1970s and early 1980s, we were 350 restaurants strong. And in 1995, after decades of success and growth, Red Lobster (along with the Olive Garden and later Bahama Breeze) was spun into Darden Restaurants, headed by former CEO Joe Lee. Our menu changed, offering more choices for our guests. Casual dining had changed dramatically, and to maintain our leadership position, we complemented our terrific menu with a new, attractive atmosphere. We created a place where our guests really felt at home. A place where they could feel comfortable enough to laugh out loud or feed shrimp to a friend or pass a lusciously rich dessert around the table. Our architecture took on a new life, and plain boxes evolved into the bright, open feel of many of the restaurants that you see today.

But even as Red Lobster continues to change and grow, some things remain the same. Like the magic of indulging in our Ultimate Feast, the sweet taste of fresh Maine lobster dipped in butter and the sound of laughter wafting between booths. It's simple moments like these that we celebrate at Red Lobster. And when we're able to make them a part of your life, our jobs are even more rewarding.